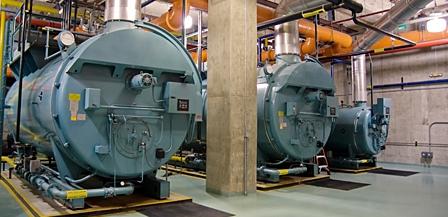 New Jersey Commercial enterprises like apartment buildings, factories, office buildings, schools, and houses of worship need reliable heating and cooling all day, every day. When facilities managers of these properties need a commercial boiler installation anywhere in New Jersey, they often call us here at American Boiler Company.
After 15 years of installing and serving commercial boilers across the state, we've become one of the largest Commercial Boilers servicing companies in NJ. Our fleet of trucks can be seen across NJ on any given day.
Our experienced, professional boiler installation crews each have centuries of combined experience and will make sure that your commercial boiler system gets off to the right start. Efficient, effective heating power begins at the point of installation, so make sure your boiler installation is handled by professionals.
Commercial Boiler & Related Services Provided By American Boiler Company
When it comes to boiler servicing or mechanical building maintenance, there is really nothing we don't have the ability or experience to do and do quickly.
24/7 Emergency Boiler Repairs
Boiler Repairs, Sales, and Installation
Burner Tune-up Repairs, Sales, and Installation
Heat Pump Repairs, Sales, and Installation
Furnace Repairs, Sales & Installation
Boiler Controls and Wiring
Steam Trap, Condensate & Water Treatment Systems
Stack, Exhaust & Breeching Systems
Oil to Gas Conversion
Boiler Derating
Energy Management Controls
Annual Maintenance Plans
Emergency Boiler Rental
R Stamp and ASME Repairs
Boiler Operator Staffing Service
Boiler Installation and Replacement Company Considerations
One of the reasons to hire a large Boiler service company is the service they can provide by having many different crews that can service your building on an emergency basis. That includes weekends and the middle of the night. If you are a facility manager, you want the kind of relationship that gives you that kind of service and support, long after your boiler is installed. That kind of straight-talking service is why American Boiler Company provides boiler service contracts to some of the largest Apartment complex management companies, the biggest hospital chains, and process plants in the state of NJ.
Replacing Your Commercial Boiler for Energy Efficiency
Growing demand for efficient space heating systems in colder climatic zones (like NJ) will drive the commercial boiler market.
A typical Commercial boiler system in the USA uses 1,040 trillion Btu's (British thermal units) of natural gas annually. It takes 709 trillion Btu's to heat 32 percent, or 20 billion square feet of commercial floor space (excluding malls). Boiler systems clearly represent a major energy end-use in the commercial sector.
Whether gas or oil, energy costs consume the largest portion of every commercial facilities' budget. Northeast U.S. exceeds $9 billion dollars in fuel costs alone.
Today's standard boiler efficiency rating operates between 80-85% efficient. Older models are found operating in the 50 – 55% range. High-Efficiency Boilers are now available with ratings as high as 98%, meaning a Boiler replacement or new installation of a high-efficiency unit could reduce your building's fuel costs close to 50%. This is a massive saving for most commercial buildings, one that can pay back the cost of installation in less than a year.
Please contact us today at (973) 923-1999 or complete our contact us form for your Commercial Boiler needs. Site surveys are always free, and for a limited time, we are offering a complimentary boiler inspection with emissions analysis to new customers.