American Boiler Company's skilled welders and pipefitters can manufacture headers and fittings to meet your exact requirements.  We have the tools and resources to pre-assemble headers and other fittings in our shop so that our boiler installation projects go smoothly and stay on schedule.  If you have a need for customized pipe headers and fittings, contact us today.  We'll review your requirements and provide you with a free estimate.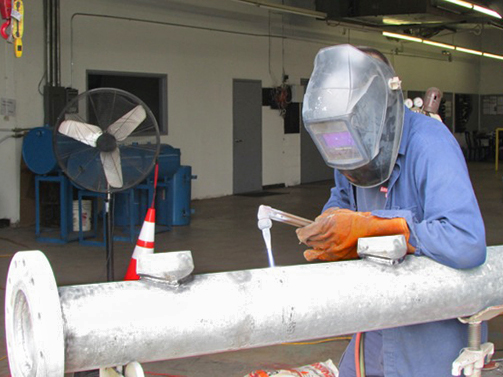 We Have Experience With:

All trademarks, service marks, registered trademarks, and registered service marks are the property of their respective owners.
Let Us Call You
or Call Us Today (973) 923-1999
24 Hr Emergency Service Available
With all the companies out there, why should you choose American Boiler Company for your boiler installation project? The answer is simple. We are boilermakers with over 30 years of experience installing boilers. That means boilers are our core business. We know how to install them and service them.
Our knowledge and experience will be evident from the initial site survey through to the final inspection. We start each project with a thorough evaluation of your requirements. Our sales engineers will meet with your maintenance staff to inspect your boilers, burners, and related systems.
After we completely understand your needs and requirements, we develop solutions that will deliver exceptional value to your organization. Whether your project involves repairing your current system, removing and replacing a boiler, or the construction of a new heating system, we will work with leading manufacturers to obtain competitively priced equipment.
We pursue all options for saving your organization money while maintaining the highest levels of quality. This includes identifying state and federal rebates and grants that will lower the overall cost of your project. For example, we have worked with the State of New Jersey's Pay for Performance program to save our customers hundreds of thousands of dollars. To learn more, please review our case studies.
Did you know that Combined Heat and Power (CHP) or Cogeneration systems have the potential to significantly cut your energy costs and that they can pay for themselves in less than 5 years? If you're interested in learning more, take a look at our case studies and other CHP materials located on our website. Or, you can contact us and we can provide you with a free savings analysis.
Having your heating system professionally maintained by the American Boiler Company has numerous benefits. Our annual maintenance and boiler cleaning services will reduce the buildup of damaging scale, identify problems before they become emergencies, and keep your heating systems running at their peak levels of efficiency. In addition to these money-saving benefits, our annual maintenance services will enable your organization to pass required local inspections and avoid costly fines.
Please contact us today at (973) 923-1999 or complete our contact us form. Site surveys are always free, and for a limited time, we are offering a complimentary boiler inspection with emissions analysis to new customers.