Boiler Feed and Condensate Recovery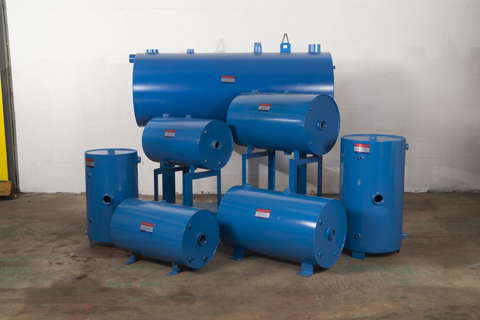 Sizes 10 to 2,000 gallons. For all types of steam boilers with pressures up to 300 psig.
American Boiler Company's boiler feed & condensate recovery systems provide storage for make-up water and condensate return from the system loop.
A quality, heavy duty packaged unit fully assembled and ready to install. The units are factory assembled with pre-wired control panel, fully piped pumps and valves.
With the optional automatic steam preheater, feedwater temperature can be maintained at 210°F. At this high temperature, oxygen and carbon dioxide are released, reducing corrosion problems in the boiler and piping system. Also, preheating boiler feed water improves efficiency reducing fuel consumption
Features, Sizes, and Options
Systems are available in single, dual, triple and quad pump configurations. Sizes 10 to 2,000 Gallons. We welcome custom orders.
Standard factory installed equipment:
3/16" thick carbon steel tank
Automatic, internal float actuated fresh water make-up valve assembly. Not included w/ condensate transfer systems.
Water level gauge glass set with bronze shut-off cocks and drain.
Tank drain valve.
Water temperature thermometer.
Pump suction piping with shut-off valve and strainer w/ elevated systems.
Typical Optional Equipment:
Control panel, motor starters & breakers.
Pump Indicator lights & selector switches.
Diffuser tube for extra high temperature condensate return.
High and low water level alarms.
Pump alternator switches.
Magnesium corrosion rod.
Epoxy lining Manhole openings (200 gallon & larger).
Electric solenoid valve makeup water assembly.
Steam operated feedwater preheater.
Discharge pressure gauges.
In Stock and Ready to Ship
Stainless Steel:
All units are available in 304 & 316L stainless steel. Ideal for food processing, chemical & pharmaceutical applications.
Elevated Tank:
A rugged floor mountable base ideal for boiler rooms with limited floor space.
Low Boy Tank:
Designed for low condensate return piping or limited height applications.
Vertical Tank:
Ideal for installations with limited side & width space. Tanks are elevated 1" with feet to prevent bottom corrosion.
Box Tank:
Well suited for condensate transfer & low volume boiler feed applications.