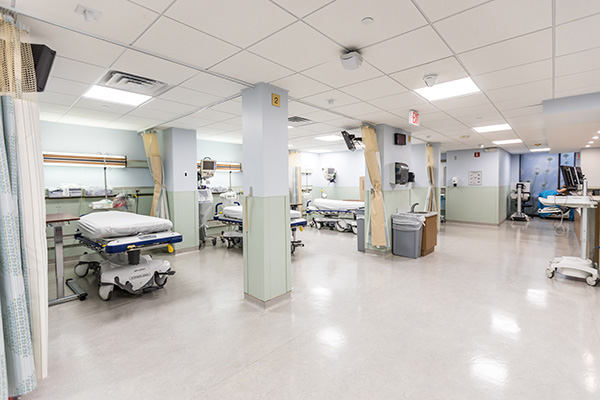 Hospitals and healthcare buildings traditionally have one of the highest energy demands for both heat and mechanical power. Heat is required for domestic hot water, space heating needs, and steam production, while mechanical power in the form of electrical energy is used for lighting purposes as well as medical and technological equipment. Most large healthcare facilities rely on steam boilers, which are an essential component for hospital central utility plants.
Increasing demand for cost-effective hospital boiler systems that can deliver reliable heating and power needs for large healthcare facilities has led to a significant increase in steam boiler use and modification to meet the high internal loads of such large facilities. Steam boilers are the preferred option in hospitals for:
Delivering building heating
Providing consistent steam for sterilization processes
Domestic hot water for health care facility use
Steam laundry requirements
Steam boilers play a vital role in key hospital processes, and this is confirmed by the Joint Commission requirement of N+1 for boilers used in large hospital central utility plants.
Steam Boiler Systems Explained
Over the last decade, there has been a significant increase in cooling requirements in health care facilities. As a result, hospital boiler systems that rely on conventional heating, ventilation, and air-conditioning (HVAC) units are both expensive to run and energy-intensive. To significantly reduce energy use and greenhouse emissions, healthcare facilities are opting to upgrade or modify their steam boilers as they seek to achieve more energy-efficient operations at the lowest cost.
Healthcare facilities consume approximately 5% of the total energy in today's commercial sector. Hospitals spend a combined cost of more than $8 billion per year on energy. Problems associated with building operation and control lead to further energy usage in healthcare facilities. More than 50% of the energy used in these facilities comes from natural gas, which is primarily used for firing steam boilers to provide space heating, steam for sterilization, and hot water. Modifying steam boilers for large healthcare facilities to ensure maximum efficiency helps reduce energy costs.
Boiler Life Expectancy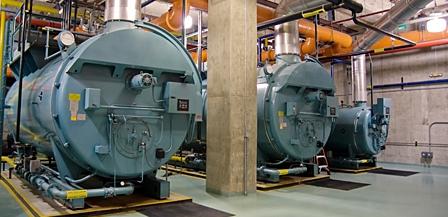 The average life expectancy of steam boilers in large facilities like hospitals ranges from 20 to 35 years. In most cases, hospital boiler systems are usually the last equipment to be replaced for the central unit plants in healthcare facilities. Based on research by energy industry experts in the healthcare sector, approximately 70% of the boilers being used in healthcare facilities today have been in use for more than 30 years.
Despite the long years of boiler operation, most of these steam boilers are still operational and fulfilling the facility's steam requirements. Unlike other hospital equipment, their significant role in facility operations ensures that they are well-maintained on a 24-hour basis. Boiler maintenance experts also implement preventative maintenance that ensures even the oldest boilers operate for a few more years, extending their life expectancy.
Modification of steam boiler systems explained
Old boilers can be modified in different ways like replacing tubes, burners, and even complete rebuilds to extend their lifespan. However, despite an improvement in performance with these modifications, you'll most likely need a replacement. Boilers used in hospitals are usually replaced due to a number of reasons:
The steam boiler has reached the end of its service life.
The facility has a planned capital investment project for new hospital boiler systems.
The boiler is experiencing frequent breakdowns or is no longer operational.
The facility is considering upgrading to a more energy-efficient boiler.
Why Should You Upgrade to a New Boiler?
Replacing your old boiler with a new one comes with a number of benefits, especially for central utility plant operation in large healthcare facilities.
Energy efficient
Unlike older boilers that consume more energy to run, especially in large facilities with huge load demands, new boilers are more energy-efficient and cost-effective for hospitals.
Sustainable
Sustainability has always been an issue with the use and operation of boilers in large facilities. Most companies and facilities like hospitals that rely on older boilers operate them out of necessity. Many of them are not sustainable. Upgrading to a new boiler is the best option as they're more sustainable.
Fuel-efficient
Old hospital boiler systems consume a lot of fuel to sufficiently meet the heating and energy demands of healthcare facilities. New boilers operate on a more efficient process ensuring maximum fuel efficiency.
Operation and Maintenance
New boilers are streamlined to operate more smoothly and efficiently than old boilers that are more challenging to operate and maintain. The older boilers often take up to 90 minutes to heat up, meaning that they are mostly kept running to meet heating needs when required. New boilers are designed to heat up in as quickly as 5 minutes and can be adjusted to handle variable loads to ensure less energy consumption.
Considerations When Replacing Steam Boiler Systems
When it comes to replacing a boiler for a hospital central utility plant, there are important factors you need to consider. The process of replacing your old boiler and choosing the right one to meet current and future heating and energy needs is not easy. Hospital boiler systems are expensive and replacement can prove challenging for healthcare facilities, engineers, and contractors. During the replacement process, you'll have to deal with downtime and reduced capacity for your steam unit.
It's important to plan and collaborate with all stakeholders involved in the boiler replacement project to ensure that boiler upgrades and replacement are done at the right time so as to avoid interrupting operations, especially during periods of high steam demand.
In addition to proper planning, you also need to keep these considerations in mind:
Budget
When investing in a boiler, it's important to think of the initial installation cost, as well as the maintenance requirements needed to ensure it operates efficiently. The initial cost of investing in a new boiler can be high, but significant operational savings can be saved when you opt for a high-efficiency boiler that uses less fuel and runs smoothly. Considering that steam boilers in large healthcare facilities are used for many critical services, you must select the best boiler that can meet multiple process requirements.
More and more hospitals are becoming concerned about gas pricing, energy consumption, and operational efficiency when upgrading hospital boiler systems. It's important to choose a boiler that can address these issues and be adaptable to the growing needs of the facility. Any boiler upgrades should focus on long-term savings with regard to space, time, and energy.
Boiler Size
Considering the age of most existing boilers in healthcare facilities, it's likely that steam and hot water requirements have changed significantly over the years of boiler use. Before boilers can be replaced, a thorough and complete evaluation of the operational and functional requirements of the entire boiler system has to be done. In most cases, existing boilers are either too small, too large, or operating at the wrong pressure or temperature for the current process requirements in a hospital.
Designers of the boiler will have to work with boiler maintenance engineers at the hospital to evaluate different aspects of steam boiler systems explained below:
The steam pressure
The volume needs
Special steam quality requirements
Daily, weekly, and annual cycle of boiler loads
To ensure a clear understanding of steam usage in the hospital, boiler logs should be provided. It's normal to have fluctuating steam requirements throughout the year. For instance, when there is less heating or minimal demand applications, large hospital boiler systems mostly operate at low loads. During low-efficiency operations, large boilers will often cycle on and off, further reducing efficiency. That's why hospitals should consider installing smaller temporary boilers, allowing large boilers to be shut down at specific times when heating or energy demand is not high.
Pollution
Environmental pollution and climate change have become a huge concern globally, especially among developed countries. When you consider the number of hospitals in the U.S alone, boiler upgrades can play a huge role in reducing air pollution caused by boiler exhaust gasses and contaminants like Sulphur oxides, carbon monoxide, and particulate matter, and nitrous oxide. The Environmental Protection Agency (EPA) has put in place strict measures on boiler flue gas exhaust emissions.
Although EPA requirements are based on the Clean Air Act that was enacted in 1963, subsequent amendments have been made over the years. Most local governments and states also have their own regulations on boiler emissions. It's important to work closely with the mechanical engineer and hospital boiler systems manufacturers when upgrading or replacing your old boiler so that you implement the latest boiler emission control technology.
Laundry Requirements
For many years, laundry equipment in healthcare facilities was often steam-fired. High-pressure or medium pressure steam is usually used for operation. However, with increasing energy costs, most hospitals are now opting to consolidate or even fully outsource their laundry services to not only reduce operational costs but also ensure a more streamlined laundry management. Steam usage for laundry equipment in large facilities is now getting lower. When buying a new boiler, make sure it reflects the current healthcare facility steam requirements and have the new steam boiler systems explained so as to understand functionality better.
Sterile Processing Requirements
Sterilization of medical equipment, medical devices, and other consumables for use in various places like operation rooms in hospitals largely relies on the high pressure and penetrating power of steam from the boiler. Some hospitals have opted to outsource these services reducing the demand for steam in their facilities. If you're upgrading to new hospital boiler systems and your healthcare facility has low-steam requirements, you should consider the use of point-of-steam generators.
Another alternative for facilities with low steam requirements is the use of condensing boilers for domestic water heating and building heating. These boilers can operate at up to 98% efficiency compared to around 83% approximate efficiency for steam boilers. You should also know that hot water pipes have lower maintenance needs when compared to steam and condensate piping systems.
Flue Economizer
Considering that most boilers in U.S. hospitals are more than 30 years old, facilities are not getting the level of efficiency they need to ensure consistent full load capacity. Due to the increasing costs of operating healthcare facilities, a boiler replacement is not usually a top priority. Facility engineers end up choosing innovative ways to improve the efficiency of the steam boilers in hospitals.
One of the great ways to improve hospital boiler systems is by introducing stack economizers to recover some of the heat from flue gasses which is then used to preheat makeup water for domestic heating. Installing flue economizers will require downtime so schedule the upgrade during low steam usage.
Please contact American Boiler Company today at (973) 923-1999 or complete our contact us form for your stream traps needs. Site surveys are always free, and for a limited time, we are offering a complimentary boiler inspection with emissions analysis to new customers.