American Boiler Company is pleased to announce that it now holds an ASME R Stamp Certification issued by The National Board of Boiler & Pressure Vessel Inspectors. The company is authorized to perform welding repairs and alterations of boilers and pressure vessels. Performing welding repairs on pressure retaining items demands a high degree of technical skill and is subject to strict oversight by state and federal agencies. Receiving the "R-Stamp" Certification is a major milestone for the company, and a testament to the level of skill demonstrated by the company's welders and its administrative oraganization.
American Boiler Company designs, installs, and services commercial and industrial boiler systems and related mechanical equipment in the New York and New Jersey area. American Boiler Company has established itself as a leading mechanical contractor with the capability to service a wide range of customers with complex boiler heating and steam processing requirements. The company has successfully completed numerous boiler installation projects for many private and public customers. Some of these customers include MTA, DEA, Bayonne Housing Authority, Carteret Board of Education, Fort Wadsworth, Marriot Hotel, Westin Hotels, Princeton University Plasma Physics Laboratory, Georgia Pacific, Bergen Regional Medical Center and many more.
The company was founded by Gary Frank who has more than 30 years of experience in the boiler and welding industry. Mr. Frank is supported by a growing team of welders, boiler & burner technicians, pipefitters and other professionals who help the company deliver outstanding service to our customers each day.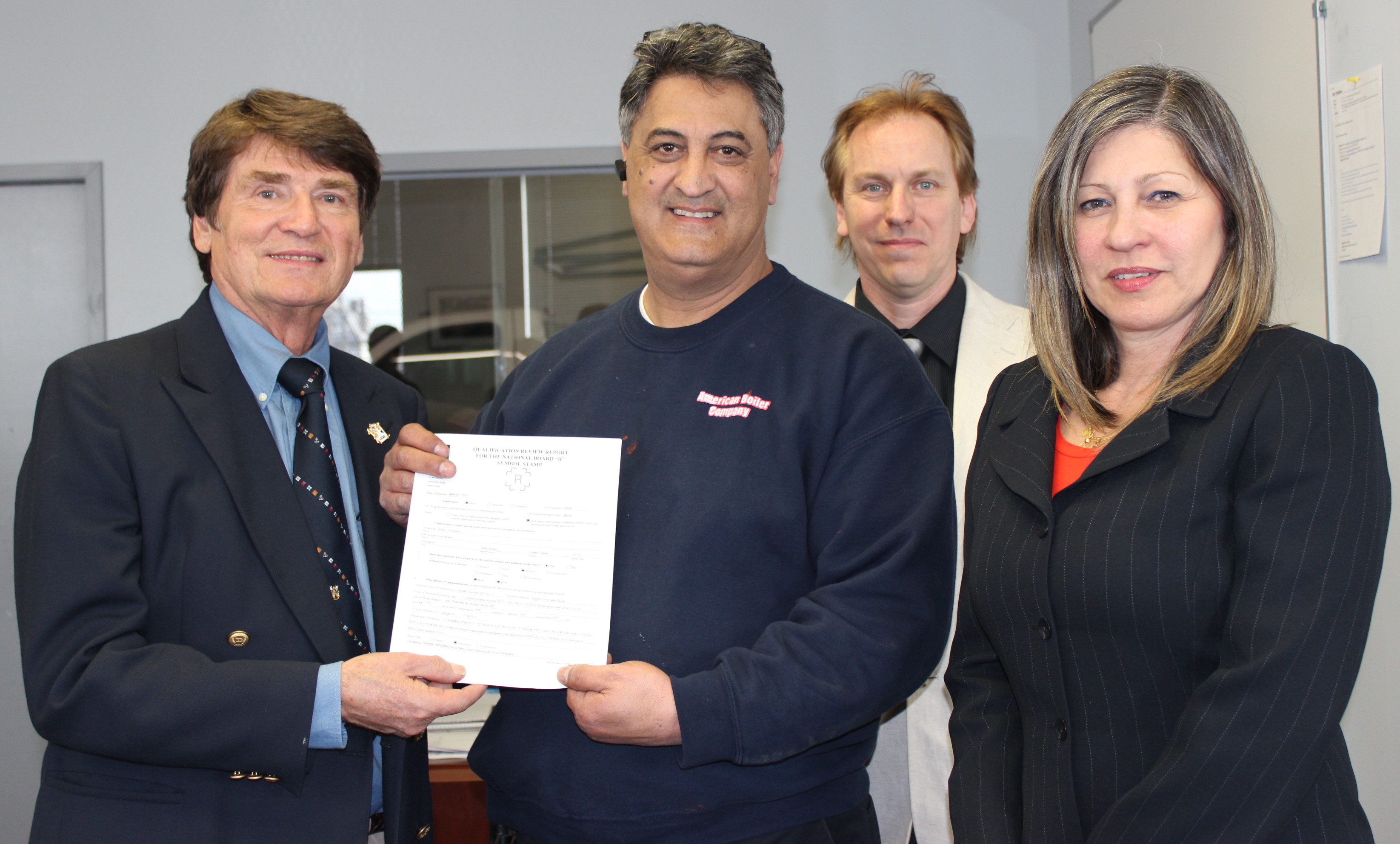 Mr. Gary Frank, President of American Boiler Company, receives National Board "R" Certification from Mr. William Niedzwiecki, Authorized Inspector Supervisor, ARISE Inc. Also shown in this photo are Ms. Rubia Ayala, of The National Board of Boiler & Pressure Vessel Inspectors, and Mr. Ed Noch III, Boiler & Machinery Consultant, ARISE Inc.